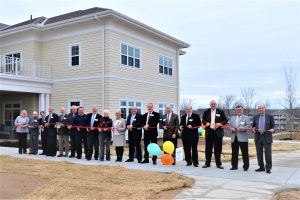 A new approach to senior care in northern Kentucky.
When someone you love enters short-term rehabilitation or long-term nursing or memory care, wouldn't it be good to know that their individual preferences come first? Unlike so many senior living communities that ask residents to adapt to strict schedules and requirements, Emerald Trace adapts to each individual.
When to wake up, what to eat, how to spend the day … these are basic individual choices that belong to each resident. It's part of who they are, and their personal sense of self. Emerald Trace is introducing a new standard that respects individuality, and that focuses on developing strength, not on treating weakness.
At Emerald Trace, residents have their own private apartment, which leads into the community's Household where no more than 20 residents share one another's company and living space, and spend as much time together as they choose. This allows small caregiver teams to be permanently assigned to each Household, enabling residents and team members to come to know one another well, and essentially to share a home together. Unlike a conventional care environment, personal relationships between residents and their caregivers are encouraged, and occur spontaneously.
Our entire approach is designed to cultivate "personhood" by recognizing that every older person, no matter how frail, has the potential to continue growing socially and spiritually, and the right to live life to the fullest. To that end, we focus attention on retaining individuality and nurturing ability, rather than merely treating disability. Northern Kentucky has never seen a senior living community like Emerald Trace.